Speciality Exotic Produce Blog
Grab CEX RSS Feed
Joseph Coupal - Thursday, February 12, 2015
Joseph Coupal - Wednesday, January 22, 2014
Awards season is upon us and my DVR is filling up fast! This has to be one of my favorite times of year to veg out and watch all the red carpet coverage. Everything from the hair styles, jewels, gowns all the way down to the shoes makes for some quality television.
Of course, a good awards show calls for a good cocktail. Emma Thompson knew that when she took over the stage at the Golden Globes a couples weeks ago.
Although her drink of choice, a martini garnished with an olive, is a classic that will never let you down I will be sipping on something with less of a kick and a little more sweetness.
A cranberry-rosemary mojito with Mini Fruit Crystals Cranberry has the perfect combination of sweet, tart, and a hint of that woodsy flavor. The vibrant red color resembles the red carpet that we recognize so well. Try it out, the recipe is included here for you to mix up!
Whether you watch it live or you DVR it, don't miss all the awards shows coming up. Who knows, maybe Leo will finally get that Oscar…
Cranberry-Rosemary Mojito with Mini Herb Crystals® Cranberry Rim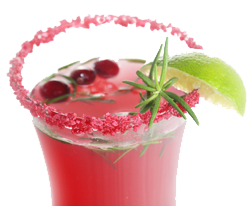 Yield: 1 drink
Ingredients:
1 handful Rosemary
1 Lime – 2 oz Lime Juice (save one wedge for garnish)
1 oz Cranberry Juice
1.5 oz White Rum
1 oz triple sec
1 oz simple syrup
Ice
Directions
Pull rosemary off sprig (save one sprig for garnish). Cut lime into wedges, save one for garnish. Squeeze lime juice in a cocktail shaker. Add rosemary and muddle. Add simple sugar, rum, triple sec, fill with ice and shake.
Pour Mini Fruit Crystals® Cranberry on a small plate, lay out evenly. Add simple syrup (sugar & water mixture – heat to dissolve sugar) to a small bowl and dip the glass rim in it. Immediately dip glass in the Mini Fruit Crystals® Cranberry plate.
Pour the shaker ingredients into the glass. Garnish with a lime wedge and a sprig of rosemary. Top with a tsp of Mini Fruit Crystals® Cranberry.
Joseph Coupal - Wednesday, November 27, 2013
Creating a cocktail is just as much about pleasing the eyes as it is pleasing the pallet. Enter our Mini Herb Crystals® & Mini Flower Crystals®, the vibrant colors draw attention and the crystal's fresh flavors are captivating to the taste buds. The uses are varied and can be incorporated into something as subtle as being a different substitute for plain white sugar, adding a unique sweetness to any drink, or as an eye-catching rim on a cocktail.
The Mini Crystals® are a smaller, more granular than the regular Crystals, making them more adhesive and ideal for rimming cocktail glasses. Check out Mixologists like Junior Merino with his The Big Apple cocktail. Rimming his cocktail with Herb Crystals® Fennel, and garnishing with our Apple Mint Tops. Check out his recipe: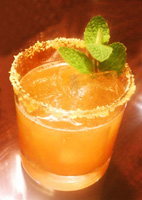 2 oz Hudson Whiskey
1/2 oz grilled apple juice
1/2 oz cinnamon syrup
3/4 oz fresh lime juice
1/4 oz Xtabentun Mayan Liqueur
1 dash of Junior Merino Roasted Apple & Toasted Spices Bitters
Pour all ingredients into a mixing glass. Add ice and strain into a rocks glass rimmed with Flower Crystals® Fennel and garnish with an Apple Mint top.
---
1
Recent Posts
---
Tags
---
Archive