---
Speciality Exotic Produce Blog
Classy as…well you know!
27 January 2014
This weekend I was going through all my glassware, for some reason I think collecting new things to drink out of is fun, and I realized I have never used my champagne flutes!
There have been may missed opportunities. New Year's, my birthday, and the day I moved into my new place. The list goes on and on.
What I realized is, I don't even like champagne all that much. Sure I'll have some if it's being served for a special occasion but I would never go out of my way to buy a bottle.
Rather than give away my beautiful flutes I decided to come up with a cocktail that looks better than any serving of champagne you could get.
So next time you find yourself wondering how to incorporate the always classy looking champagne flute try out this recipe.
I swear you'll forget all about mimosas and bubbly!
The Peachy Deegan with Mini Flower Crystals® Rose Rim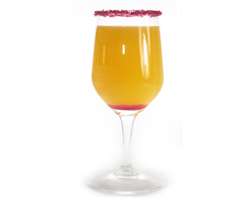 Yield: 1 drink
Ingredients:
2 oz Vodka
1 oz fresh squeezed lime juice
1 oz fresh peach nectar
1 lime wedge for garnish
Ice
Directions:
Chill a champagne flute. In a shaker, combine lime juice, peach nectar, vodka and shake.
Pour Mini Flower Crystals® Rose on a small plate, lay out evenly. Add simple syrup (sugar & water mixture – heat to dissolve sugar) to a small bowl and dip the glass rim in it. Immediately dip the chilled glass in the Mini Flower Crystals® Rose plate. Strain the shaker ingredients into the glass. Garnish with a lime wedge and a sprinkle of Mini Flower Crystals® Rose.