---
Speciality Exotic Produce Blog
Cocktails and Mini Herb Crystals® & Mini Flower Crystals® – A Perfect Pair
27 November 2013
Creating a cocktail is just as much about pleasing the eyes as it is pleasing the pallet. Enter our Mini Herb Crystals® & Mini Flower Crystals®, the vibrant colors draw attention and the crystal's fresh flavors are captivating to the taste buds. The uses are varied and can be incorporated into something as subtle as being a different substitute for plain white sugar, adding a unique sweetness to any drink, or as an eye-catching rim on a cocktail.
The Mini Crystals® are a smaller, more granular than the regular Crystals, making them more adhesive and ideal for rimming cocktail glasses. Check out Mixologists like Junior Merino with his The Big Apple cocktail. Rimming his cocktail with Herb Crystals® Fennel, and garnishing with our Apple Mint Tops. Check out his recipe: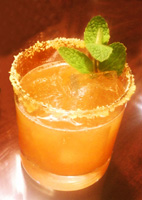 2 oz Hudson Whiskey
1/2 oz grilled apple juice
1/2 oz cinnamon syrup
3/4 oz fresh lime juice
1/4 oz Xtabentun Mayan Liqueur
1 dash of Junior Merino Roasted Apple & Toasted Spices Bitters
Pour all ingredients into a mixing glass. Add ice and strain into a rocks glass rimmed with Flower Crystals® Fennel and garnish with an Apple Mint top.