---
Speciality Exotic Produce Blog
Create A Buzz This Holiday Season!
25 November 2013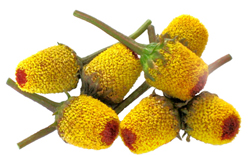 Entertaining during the holiday season is the perfect way to show off your culinary and cocktail skills. Create something unique and memorable with our Buzz Buttons. Stimulate your taste buds with this exciting burst of energy! These yellow, cone shaped flowers produce an electrifying effect on the palette. With a slight citrus flavor, it gives your mouth an exciting tingly feeling with an almost numbing effect.
This unique flower stimulates saliva and cleanses the mouth with a refreshing cool feeling. Use sparingly by shredding the flower and sprinkling over food or muddle in cocktails to add electricity! Here are some ideas on how you could use them:
Recipes:
Buzz Thriller Cocktail
Servings: 1 drink
Cut 5 Buzz Buttons™ into pieces, put in a blender. Add Sweet and Sour, Citrus Rum, Blue Curacao, and juice from half of a lime. Blend mixture then pour into a glass filled with ice. Top with a float of Cachaca. Serve with 1 Buzz Button™ for garnish, but be sure to caution your customers of their tingly sensation. Since alcohol dehydrates you, the Buzz Button™ is a perfect ingredient because it stimulates salivary glands, keeping your mouth from getting dry and giving you a refreshing hydrated feeling!


Tingly Citrus Vinaigrette
Yields: 2 cups
Combine all ingredients in a blender. Blend until smooth.


Citrus Buerre Blanc with a kick!
Yields: ½ cup
In a hot small saucepan, add shallots and juices. Simmer and reduce until au sec (nearly dry, about 1 tbsp of liquid left). Add Buzz Buttons™, salt, & pepper. Take off heat and add a few cubes of butter at a time, whisk quickly and constantly until melted. Careful not to "break" the sauce (separation of fat and liquid). This will happen if it is too hot. The finished sauce should be thick and smooth.