---
Speciality Exotic Produce Blog
New Year New Mixes!
30 December 2013
The New Year is a time for changing up the routine. Whether it's your hairstyle or your commitment to the gym. Why not start of this year with a new cocktail to impress your friends and family.
Our Mini Herb Crystals Basil add a kick of flavor and just the right amount of texture. It looks sophisticated and elegant but only you will know just how easy it was to put together!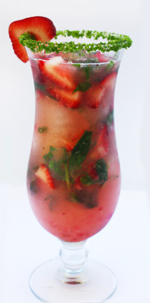 Ingredients
1 handful Petite Basil
Fresh Origins Mini Herb Crystals® Basil
3 Strawberries
1 Lemon – 3 oz Lemon Juice (save one wedge for garnish)
1 tbsp Sugar or Splenda
1.5 oz White Rum
1 oz triple sec
Ice
Directions
Slice strawberries, keep one slice for garnish. Cut lemon into wedges, save one for garnish. Squeeze lemon juice in a cocktail shaker. Add Petite Basil and muddle. Add strawberries and muddle. Add sugar, rum, triple sec, fill with ice and shake.
Pour Mini Herb Crystals® Basil on a small plate, lay out evenly. Add simple syrup (sugar & water mixture – heat to dissolve sugar) to a small bowl and dip the glass rim in it. Immediately dip glass in the Mini Herb Crystals® Basil plate.
Pour the shaker ingredients into the glass. Garnish with a lemon wedge and a strawberry slice. Top with a tsp of Mini Herb Crystals® Basil.
Enjoy the New Year and don't forget that at the end of the day it's about you and your goals.