---
Speciality Exotic Produce Blog
Satisfy That Sweet Tooth!
13 December 2013
Do you ever get a craving for something sweet? What something tangy and still fresh? It may sound like we're asking for a lot but in this case it's within reach!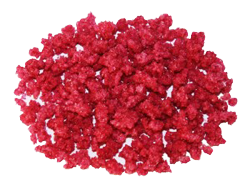 Our new Fruit Crystals Cranberry finally bring together the best things in the culinary world, sweet, tangy, and crunchy. Better yet, they can be added to almost anything. I'm talking breakfast, lunch, dinner, and dessert.
The color makes them perfect for the holiday season, adding that hint of red to baked goods and savory dishes.
Here are some ideas to get you started, but feel free to grab your apron and experiment away!
Cranberry Orange muffins with crystals baked in
Mixed green salad with walnuts and Fruit Crystals Cranberry
Lemon cookies with Fruit Crystals sprinkled on the frosting
Sprinkle on top of soft cheese to add a pop of color to your cheese plate
Happy Holidays and Happy Cooking!