---
Speciality Exotic Produce Blog
Hibernation with a Kick
8 January 2014
With all this talk to the Polar Vortex and the freezing cold temperatures we've been seeing the last week or so, there is nothing I look forward to more than hibernating in my living room with a drink and a marathon of my favorite show (currently its Bar Rescue).
Although the walk from my parking lot to my apartment isn't long its enough to freeze me from the inside out. Now, I don't know about you but something about tequila makes me feel all warm and fuzzy inside.
So as you check the weather report and contemplate selling everything you own and moving to Florida, why not make yourself a fruity margarita to take a bit of that frost bite off your soul!
Strawberry Fennel Ginger Margarita
with Mini Flower Crystals® Fennel Rim
Yield: 1 drink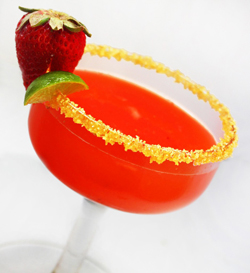 Ingredients:
2 oz Tequila
1 oz Sambuca
3 Strawberries sliced + 1 for garnish
1 oz Fennel Juice
1 tsp Ginger sliced
2 oz Key Lime Juice (save 1 wedge for garnish)
2 tbsp Agave Nectar
Ice
Directions:
Chill a margarita glass. In a shaker, combine lemon juice, ginger, strawberries and muddle. Add the rest of the ingredients and shake.
Pour Mini Flower Crystals® Fennel on a small plate, lay out evenly. Add simple syrup (sugar & water mixture – heat to dissolve sugar) to a small bowl and dip the glass rim in it. Immediately dip the chilled glass in the Mini Flower Crystals® Fennel plate.
Strain the shaker ingredients into the glass. Garnish with a strawberry & lime wedge.