---
Speciality Exotic Produce Blog
This past weekend we held our first Peppadew tasting!
4 August 2014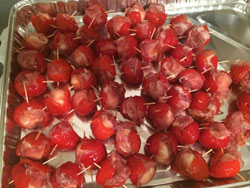 J.Pace and Son is our first retailer of the new Peppadew line and we couldn't wait to introduce their customers to all the different ways to cook with this delicious new pepper. To start things off I chose my two featured recipes for the day. For those of you that aren't familiar with J.Pace and Son they opened their first store back in the 1960's in Boston's historic North End. They are now a household name with five locations. With such a strong Italian culture present not only in their history but also with their clientele it only made sense to use traditional Italian recipes and put the Peppadew twist on them.
Recipe number one was my take on the stuffed pepper that we've all had before.
Step one was to take a jar of Peppadews, strained and rinsed them and let them air dry while I prepared the filling. Next I took fresh mozzarella ciliegine and wrapped them with fresh prosciutto. Lastly, I stuffed the Peppadews with the prosciutto wrapped mozzarella and used a toothpick to hold it all together and create an easy to grab handle.
Recipe number two was my favorite one so far – Italian sausage with Peppadews and onions
Step one was to drain, rinse and air dry a jar of Peppadews. While these were air-drying I chopped up a Vidalia onion into ½ inch strips. Next remove the sausage from the casing and brown it with some good quality olive oil. Step three is to slice the Peppadews into strips as well. Once the sausage is starting to brown add the peppers and onions.
You'll know it's ready when your kitchen smells heavenly and delicious – or when the onions are translucent!
Luckily I wasn't the only one that thought the food was good – the turnout was great and not a single Peppadew was left uneaten. If you now have a craving for these sweet and (mild or hot) spicy pepper have no fear – you can buy them at the following specialty food stores
Check back in to see what new ways I have for you to introduce Peppadews into your everyday meals.